Hamburg. Wat doe je dan? Of liever gezegd wat doe ik dan? Uiteraard ga ik eerst lijstjes maken. Met dingen nog te doen voor we gaan. Met dingen die mee moeten. Nuttige zaken zoals kleding, wat voorraad, keukenspul. Maar ook onnutte zaken die wel prettig zijn om daar te hebben; laptop, tablet, e-reader, haakwerk, en quiltspullen.
Dan is Google my best friend: de lijstjes met leuke dingen te doen. Waar kunnen we heen, wat is er te doen, wanneer is er markt, waar zijn leuke winkels. En ook waar is de quiltwinkel? Is die er wel en zo ja waar. Nou dat laatste was simpel. Die zit dus bijna om de hoek! Dus mijn eerste dag helemaal alleen heb ik eerst wat boodschapjes gedaan en zette vervolgens koers naar de quiltwinkel. Waar een alleraardigste mevrouw zat die ik in mijn beste Duits ging vragen of er ook een Bee georganiseerd werd. (voor de niet-quilters onder ons; men zit bij elkaar met een quiltwerkje en werkt aan eigen werk, drinkt koffie en kletst intussen).
Nou viel me dat Duits tot nu toe niet tegen, ik kon tot nu toe heel behoorlijk uitleggen wat ik wilde bij de sportschool, bij de mevrouw aan het loket van de metro, maar hier.... Op hoeveel manieren ik het woord "bee" ook uitsprak, ik werd niet begrepen. Toen heb ik het maar omschreven en ja! daar ging het licht aan!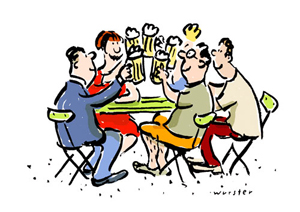 Ach... ik bedoelde ein Stammtisch! Ik wist toch wel? Beim Frühschoppen, wo die Männer Bier trinken? (met het bijbehorende gebaar) Genau! Nou dat dus maar dan dronken zij koffie en thee. Ik mocht ook komen, het was zelfs dezelfde middag!
Dus... ik 's middags richting quiltwinkel; een beetje zenuwachtig met mijn tas met spulletjes, (alles eruit, gecontroleerd, alles er weer in. Althans dat dacht ik toch...)
Een vertrouwd gezicht; de grote tafel met stoelen, afvalbakjes op tafel voor de restjes, twee dames al bezig. Ik stelde me voor -en werd voorgesteld- en ging aan de slag. Er druppelden nog wat dames binnen (ik moet zeggen dat ik de gemiddelde leeftijd aardig omlaag bracht... ;-)) maar dat mag de pret niet drukken.
Wat wel heel lastig bleek is kaffee klatsch in het Duits. Poehee. Dat is andere Kuche! Er was naast me iemand bezig met ienie mienie hexagonnetjes dus ik vroeg spontaan of ze dat eerst reeg (eh rijgen in het Duits?) en dat ik iemand kende (hallo Betty!) die dat wel met Tesa afplakband deed (eh... in het Duits?)
Ik kreeg het spontaan warm.
En toen bleek dat ik de rest van mijn stof vergeten was. Ik heb dus letterlijk 3 lapjes aan elkaar gezet en toen was de Kuche op. Ik heb mijn koffie gedronken, nog wat rondgekeken en ik ben weer gegaan. Uurtje. Ik had best even heen en weer kunnen lopen zoals de mevrouw voorstelde, Maar ik vond eigenlijk dat ik wel dapper genoeg was geweest en ben weer naar huis gegaan. Volgende keer beter!